I have to tell you that I really don't want school to start. It's been a long time since Jason and I woke up in the morning with absolutely nothing to do, and I am loving it! The only problem is that we stay up so late talking and watching movies that we end up waking up really late the next day…that combined with a 4:30 sunset makes every day feel so short! Please, I don't want break to end!!! Our fridge is full of food, my new mixer is getting a good workout, and we are happy campers.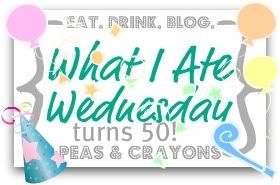 Thanks as always to
Jen
for hosting this awesome link-up…I can't believe this is the 50th WIAW! Amazing.
Breakfast: usual green smoothie (inside is a banana, orange juice, yogurt, and my green supplement)
Second Breakfast: (about an hour later) bowl of creamy grits with white cheddar melted inside
Lunch: enchiladas, rice, beans, and chips with lots of dip!
We went on a little road trip to Chesapeake today to visit the mall and just enjoy the nice day.
We saw this Mexican joint called Abuelo's and decided to try it out for lunch.
It was awesome! A beautiful place inside with great service and great food.
Dessert before Dinner: freshly baked chunk wild cookies!
I was dying to try the Silpat and cookie scoop that Jas got me for Christmas, I couldn't wait any longer! I decided to do a little experiment to see how these cookies would bake on a sheet without the silpat vs. with it. Check it out!
See the difference??? The cookies baked on the silpat spread beautifully and cooked evenly, while the ones directly on the cookie sheet hardly spread at all and got way too dark on the bottom. I'm in love with this thing already! I enjoyed a freshly baked cookie with a little glass of soymilk.
Dinner: goodness soup from the Clean Food cookbook with one of my honey wheat rolls
This soup may not be glamorous but it is mmmmm good and really healthy. Full of all sorts of veggies and legumes! It goes perfectly with a nice, warm piece of bread.
It's past midnight and we're full of energy!
Time for a movie and popcorn. We have to enjoy this break while we can.
Thanks for reading!
-Lauren
more fun posts: